Freedom Service Dogs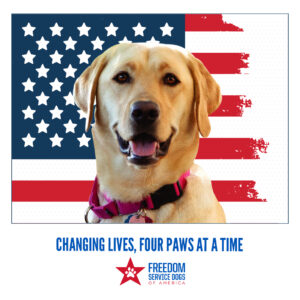 At Freedom Service Dogs (FSD), we transform lives by partnering people with custom-trained assistance dogs.
Our clients include veterans with PTSD, traumatic brain injury, and combat-related injuries, children with autism and other neurocognitive disabilities, and people with mobility challenges resulting from conditions such as cerebral palsy, multiple sclerosis, muscular dystrophy, spinal cord injuries, stroke, and traumatic brain injury.
Since being founded in 1987, we have graduated more than 525 client-dog teams at no cost to our clients. FSD also provides free lifetime support to more than 180 active client-dog teams, including refresher training, new-skills training, and successor dogs when a client's service dog retires.
Our dogs
It takes up to 20 months of care and training before one of our highly skilled service dogs can graduate with one of our clients in need, including custom training to meet the specific needs of that client. The cost to raise and train one Freedom Service Dog, from birth to graduation, is $30,000 to $50,000.
Our service dogs bring greater independence, happiness, and hope to our clients through the following skills:
For veterans with PTSD, our dogs can interrupt nightmares and flashbacks, create space around them in crowds to relieve anxiety, and provide constant emotional support.
For people with mobility challenges, our dogs can help perform daily living tasks, such as opening doors and drawers, turning lights on and off, retrieving items, pushing handicap and emergency buttons, and more.
For children with autism and other neurocognitive disabilities, our dogs can help relieve emotional outbursts by redirecting the child's attention, interrupt repetitive behaviors, and increase self-confidence and social skills.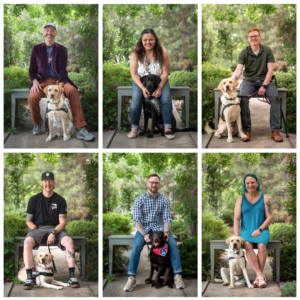 Your donation
FSD relies on the generosity of our community of supporters to fund our programs. Your vehicle donation will help us continue to provide custom-trained service dogs, at no charge, to the 90-plus people on our waiting list. Your donation is tax deductible, responsibly spent, and greatly appreciated. Please consider donating your vehicle to FSD today!
Freedom Service Dogs is a four-star Charity Navigator nonprofit, as well as a GuideStar Platinum nonprofit organization. You can learn more about us at https://freedomservicedogs.org//.
A car donation to Freedom Service Dogs can provide the resources needed to help those with disabilities by supporting service dogs nationwide.  Please consider donating your vehicle today.