Misha May Foundation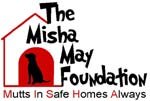 Our mission is to create a society in which abandonment, homelessness and euthanasia of dogs does not exist.  The Misha May Foundation Dog Training and Rescue rescues, rehabilitates and finds forever homes for dogs at risk, regardless of age or breed, issue or amount of time needed, in conjunction with providing educational services to the community.
At the Misha May Foundation, we  provide options, training and rehabilitation for homeless mixed-breed dogs, or any dogs who need us, until they find a permanent home; design creative foster partnerships and innovative programs which maintain or improve the health, social skills and overall well-being of these dogs as they wait for their perfect people;  consistently support other non-profit organizations that aid and benefit animals; and  provide structure, training and support for rescue volunteers and the community at large.
Our Commitment
We believe that each individual dog, regardless of breed or mix, age or issue, or amount of time needed, deserves the opportunity to find a forever home. We rehabilitate medical and behavior problems, and facilitate healing. We are committed to the forever placement of each animal for whom we assume responsibility.
We are committed to a compassionate society that puts an end to euthanasia as a means of canine population control, as a solution to behavioral issues, or as justification for human error, apathy or irresponsibility.
We are committed to each individual dog, and we celebrate the mutually beneficial bond that they share with humans.
Your generous support will help us carry out our commitment.